LED lights are successfully used in three different applications at the Shell station on the corner of 41st Avenue and Capitola road in Capitola. This station converted to LEDs in 2012.
1) The canopy lighting.  Because this is a 24 hour operation which needs to be well lit, the energy savings from LED lights is an advantage. The reliability and good color rendering are also positive attributes in this application.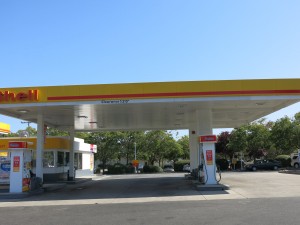 2) The perimeter lighting.  The thin form factor of LED lights enables the design of compact  lights which direct the light where it is most useful.
3) The refrigerator cases.  Because LEDs operate more efficiently when they are cool this is a great application for them.  They last longer and light immediately when turned on as there is no warm-up time. In addition to the energy savings and reduced maintenance costs – the distributed point-source nature (lots of little bright lights) the merchandise sparkles more that it does under other refrigeration lighting.
The vertical strip of bluish (high color temperature) LEDs can be seen in the picture on the right, behind the Pepsi logo.