LED lights reduce energy use 70 percent, cost 40 percent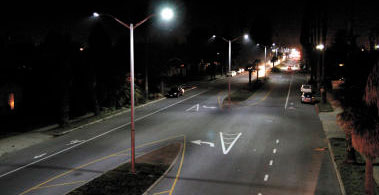 SANTA CRUZ – Using grants and special financing from PG&E, the city hopes within a few months to have replaced about two-thirds of streetlights with higher-efficiency, brighter LED bulbs to increase safety and cut energy use.
The city has replaced 242 lights since November 2010 along Ocean Street, Water Street, Morrissey Boulevard, Soquel Avenue and other corridors. The replacements, paid for by $150,000 in federal stimulus funding, represent about 14 percent of the 1,753 lights owned by the city.
Public Works officials have identified 350 lights in the Lower Ocean and Beach Flats areas for replacement, for which the city hopes to tap $180,000 in federal Housing and Urban Development funding. The city also wants to enter into a $250,000 financing agreement with PG&E to replace 500 other lights around town, with the loan to be repaid through future energy savings.
read the article in the Santa Cruz Sentinel